70 Years LTS Jewel: W. Bro. Lt. Gen. (Retd.) S. N. Sharma
Many of us have heard of and seen the rare ceremony of presentation of 60 years' LTS Jewel. It is rarer that one sees the presentation of jewel to honour 70 years of service to Freemasonry. Such moments are historic. 8th December 2020 was one such historic day for the Freemasons in India. For the first time in the history of Northern Region a brother from New Delhi was presented with a LTS JEWEL to recognize & celebrate his 70 years' service to Freemasonry. This is only the fourth time n the country that any brother has been conferred this honour.
MW the Grand Master, MW Bro Rajeev Ramkrishna Khandelwal, OSM, flew in to Delhi from Nagpur specially to present the 70 Years Long Term Service Jewel to W.Bro. Lt Gen (Retd.) S N Sharma in the presence of his wife and family at his residence.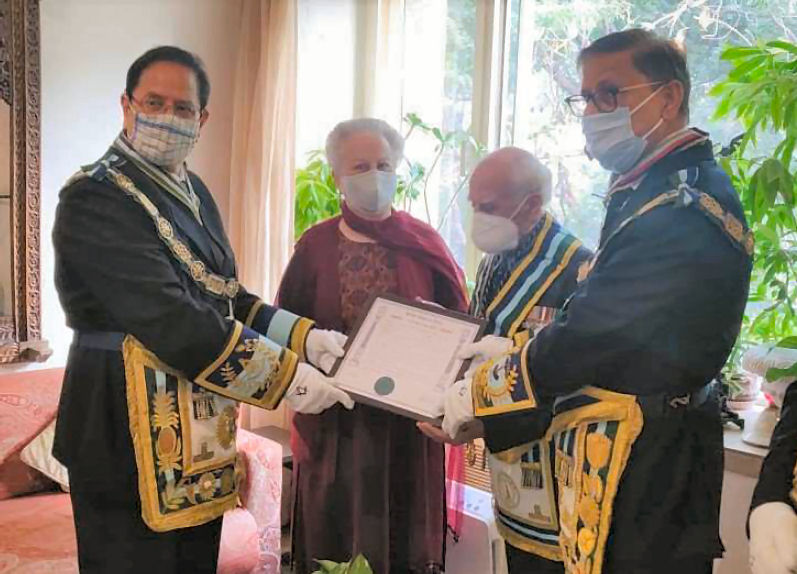 At 97 years of age, a very fit, agile and a hardcore fauji freemason W Bro Gen Sharma had a strong desire to come to Freemasons Hall, New Delhi to receive the jewel from MW the Grand Master in a proper ceremony. He was a little disappointed as his family did not permit him to leave the residence in this pandemic time. MW the Grand Master travelled along with RW Bro A K Sharma, RW the Regional Grand Master of the Regional Grand Lodge of Northern India, RW Bro Vishal Bakshi, Grand Secretary, RW Bro Ashok Sharma, Reg. Grand Secretary and W Bro Col. Ramesh Sharma to his residence in New Delhi to confer the honour. The brief ceremony was conducted by GDOC – RW Bro Dinesh Adlakha.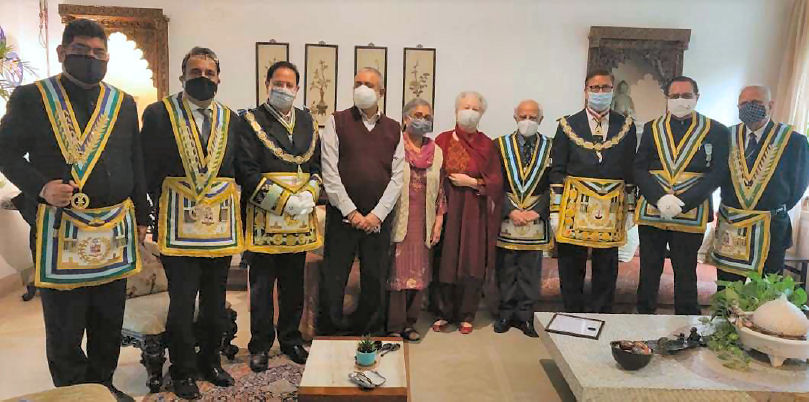 W Bro Gen S N Sharma is from a family of illustrious army men. His father retired as DG Armed Forces Medical Services. His elder brother, Maj. Somnath Sharma was the first recipient (posthumous) of Param Vir Chakra in 1948 and his younger brother, Gen V N Sharma retired as the Chief of Army Staff. W Bro Gen S N Sharma was commissioned in Corps of Engineers in 1945 and retired as the Engineer in Chief in 1981. He has been a keen para-trooper.
He was initiated in 1950 in Lodge Engineers No. 120 (then 6964 EC) and adorned the Eastern Chair in Lodge Raza Jubilee No. 132 in 1981. He is a subscribing member of Lodge Samyukta Sena No. 126. He is a keen and active ritualist. He continues to attend Lodge meetings and loves to conduct the complete ceremony of Raising all by himself.
Immediately after the presentation, RW Bro A K Sharma, RW the Regional Grand Master, conferred the rank of Past Dy Reg. Grand Master on W Bro Gen Sharma. Prior to this he held the rank of Past Reg. Grand Standard Bearer. MW the Grand Master hinted at honouring the recipient suitably.
The Freemasons of India salute & congratulate W Bro Gen S N Sharma on the completion of glorious 70 years of service to Masonry. It is a great honour. We wish him healthy life and look forward to celebrate with him the completion of 100 years of his life.